Description
This is a simple but very useful device that illuminates a green or red LED when an amateur radio is transmitting within a certain distance.
The devices are completely passive, requiring no batteries or power. The circuit is simple and very thin, making it easy to install in a low-profile situation.
Assembled versions are soldered and twisted for extra strength and durability.
Buy a pre-tuned variation or buy the DIY circuit by itself to attach your own wire and make it resonant!
Here's an example of how I use it on the door to the room I operate in: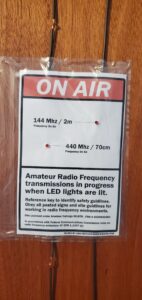 This is a new product. Quality, design, and options will change and improve as we learn more. I currently have no way to transmit on frequencies other than 144Mhz and 440Mhz, so I am unable to test on other frequencies. Hypothetically, lower frequencies will illuminate for longer distances from the antenna, but I need other operators to test it!
Wire color may vary based on stock. If you need a particular color, reach out before hand and we'll see what we can work out for you.
Length may vary as we tune this circuit better. We also plan to come up with some other design methods and ways to electrically lengthen the antenna to fit the wire in smaller spaces. Anything we find will be shared with existing customers.